Employer Advice for Engaging Different Generations in the Workplace
Employer Advice for Engaging Different Generations in the Workplace

Peninsula Team, Peninsula Team
(Last updated )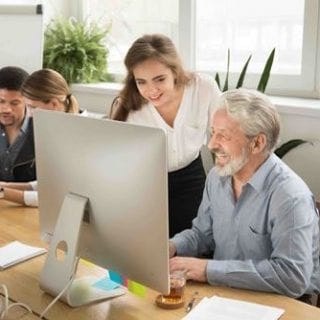 Peninsula Team, Peninsula Team
(Last updated )
In a constantly developing world, each generation is exposed to new technology, ways of living, and ideals that shape how they approach their personal and professional lives. However, these generational differences can lead to opposing perspectives in the workplace. If you are an employer working to build unity in a workforce comprised of varying generations, here are insights into generational differences and how to motivate workers.
What are the generational differences employers should know?
Below, is a quick overview of the three generations currently making up the workplace:
Baby Boomers (1946-1965): Entered the workforce in a time where technology was much more primitive, and hierarchy was a clearly established chain of command.
Gen Xers: (1966-1980): With many baby boomers entering retirement, Gen Xers are quickly claiming leadership opportunities in companies. This means they are pivotal characters in setting the tone for the organization.
Millennials (Born after 1981): Could be considered "digital natives", this generation grew up in a time of technological advances. Being heavily defined by access to the internet, this generation grew to be more digitally fluent than all generations before them.
How important are generational differences in creating a cohesive work environment?
Although each generation has its own way of communicating, studies have shown that at the end of the day people generally want similar things. In most scenarios, humans are motivated to give their best effort for organizations that are properly managed, care for and appreciate their employees, and equip them with the power and resources to make decisions about their work.
Generational differences should be seen as a strength, not a challenge
Proper education on generational differences helps employers foster an environment of inclusiveness and efficiency.
Employers can implement tools, such as a mentorship program, for mutual gain among employees. By pairing a junior employee with a senior employee, both individuals can better understand other aspects of the business, share ideas, and work styles. This approach enables the younger and older generation to learn from one another to become more well-rounded and valuable members of the company.
Do you have additional HR questions you need to be answered?
Our HR experts can help. Speak with one of our knowledgeable advisors today to receive support in creating company policies, as well as any other HR, health & safety or employment advice related questions you have. Call us today: 1 (833) 247-3652.
Employer Advice for Engaging Different Generations in the Workplace
Related articles
Blog

Kiljon Shukullari

HR Advisory Manager

Blog

Olivia Cicchini

Employment Law Expert

Blog

Olivia Cicchini

Employment Law Expert
Back to resource hub