Why Employers Should Avoid Gender-Specific Dress Codes
Why Employers Should Avoid Gender-Specific Dress Codes

Olivia Cicchini, Employment Law Expert
(Last updated )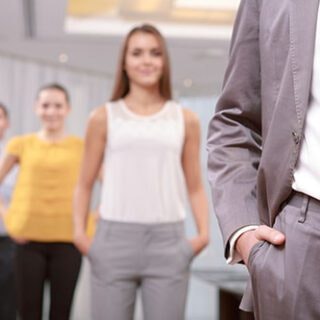 Olivia Cicchini, Employment Law Expert
(Last updated )
Many workplaces have policies in place on what is, and what isn't, appropriate business attire.
Certain workplaces such as law firms and banks implement dress codes to ensure their staff look professional for clients. Other businesses like restaurants and retail shops may have a dress code policy that requires staff to wear uniforms while at work.
Regardless of what the dress code policy is, employers must ensure it is compliant with human rights legislation. They should consider any additional requirements that'll help enforce equal treatment.
For example, if employees are providing a service to the public, a dress code policy that requires them to wear name tags can be a part of preventing or tackling racism and racial discrimination as the employees can be easily identified.
What are some things to keep in mind when establishing a dress code policy?
When establishing a dress code policy, employers should:
Make sure that staff can choose from clothing options that are comparable in terms of style, comfort, and coverage, regardless of sex, gender, disability, or religion.
Make all dress code options available by default, rather than only offering certain options by request.
Include processes for handling dress code-related accommodation requests and complaints.
Make sure that any dress or uniform requirements are made in good faith and are genuinely required to do the job.
When dress code policies breach human rights standards, it is sometimes due to gender-specific dress codes.
How are gender-specific dress codes harmful?
Cases heard by the Ontario Human Rights Commission and the Human Rights Legal Support Centre show that gender-specific dress codes negatively impact women. They make female employees feel ashamed, demeaned, and pressured to agree to these dress codes for the fear of losing tips, shifts, or even their jobs.
Gender-specific dress codes can also exclude trans and gender-diverse people, some racialized people and people who practice certain religions.
Gender-specific dress codes can also lead to employees being sexually harassed and assaulted. In the case of Noseworthy v. Canton Restaurant, the Newfoundland and Labrador Human Rights Commission heard that a female restaurant employee was sexually assaulted by the restaurant cook. The tribunal ruled in the Complainant's favour as they found that the restaurant's expectation for female workers to exclusively wear skirts, while male staff were permitted to wear pants, was discriminatory.
So, does that mean men and women can't have different uniforms?
While it is acceptable for men and women to have different uniforms, employers must ensure that any dress code policy does not undermine the dignity and right to full participation in the workplace of employees of either sex.
When there is a sex-based difference in a dress code policy, the employer must be prepared to prove the difference is due to a bona fide occupational requirement.
What other things should employers keep in mind?
Besides protecting employees from discrimination based on a protected ground, human rights laws also work to protect workers from workplace reprisals.
Due to this, employers cannot punish or penalize employees for objecting to the dress code policy for a legitimate reason.
Employers should establish a flexible and accommodating dress code policy to avoid legal ramifications. They should ensure all employees feel comfortable and safe while at work.
Do you need help creating a dress code policy for your workplace?
Whether you are looking to develop a dress code policy or update your existing one, Peninsula can help. Our advisors can help you create company policies as well as with any other HR, health and safety, or employment advice you need. To learn more about our services, call an expert today at 1 (833) 247-3652.
Why Employers Should Avoid Gender-Specific Dress Codes
Related articles
Blog

Blog

Olivia Cicchini

Employment Law Expert

Blog

Kiljon Shukullari

HR Advisory Manager
Back to resource hub