5 Mistakes to Avoid During a Health and Safety Inspection
5 Mistakes to Avoid During a Health and Safety Inspection
Workplace Health & Safety

Michelle Ann Zoleta, Health & Safety Team Manager
(Last updated )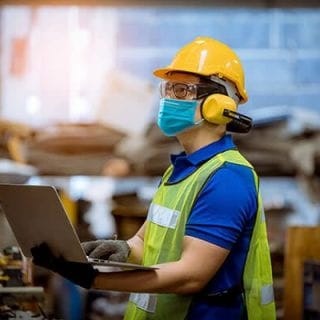 Michelle Ann Zoleta, Health & Safety Team Manager
(Last updated )
Ontario has increased its health and safety inspection blitzes to prevent the spread of COVID-19. In retail alone, inspectors have visited more than 2,308 big-box stores and other essential businesses. Till February 10, 2021, 218 tickets had been issued during 16 inspection campaigns.
Workplace safety has never been more crucial than at present. As your business deals with the economic fallout of the pandemic, the last thing you want is to lose more money due to negligence.
We advise that you steer clear of the following errors during an inspection:
Obstructing an investigation
If an inspector shows up at your workplace, you cannot turn them away.
The Occupational Health and Safety Act (OHSA) clearly states that it is an offense to interfere with an inspection. Anyone who obstructs an investigation (employers, supervisors, and employees) will be prosecuted.
Keep in mind that the purpose of the inspection is to ensure your workplace is safe for your employees and patrons.
Employers and employees must actively assist an inspector by providing truthful information. You should be respectful and forthcoming with requested documents.
Failing to comply with an order
If an order is issued by an inspector, director, or minister and the organization does not comply, they will be prosecuted.
The fines for non-compliance are steep. Corporations can be fined $1,000 for failing to comply with the orders under the Reopening Ontario Act and the Emergency Management and Civil Protection Act. Ontarians can be fined $750 for failing to follow orders under the acts.
In cases of more serious violations, an individual can be charged under Part III of the Provincial Offences Act for failing to follow a legislated COVID-19 health and safety requirement.
If convicted, the court can impose fines as high as $100,000 for individuals, and directors and officers of a corporation can be fined up to $500,000. Offenders could also face a jail term of up to one year. The maximum fine for a corporation on conviction of an offence is up to $10 million.
Not having a COVID-19 safety plan
Ontario businesses in lockdown zones and in certain sectors in yellow, orange, and red zones are required to have a safety plan. In fact, all businesses are encouraged to have a safety plan.
During an inspection, the inspector could ask to see your workplace safety plan. The plan should set down the steps taken, and safety controls put in place to prevent the spread of COVID-19 in your workplace. The safety plan should be updated regularly and shared with your staff. You must post it in a place in the workplace where it can be easily seen.
Not having a safety plan was found to be a common mistake made by businesses during the safety campaigns carried out last December.
If you do not have a plan, use the resources available to create one for your workplace. You can use the COVID-19 workplace safety plan template to create your plan.
Slacking on measures such as staff screening and use of masks
Ontario employers are required to actively screen every employee before they enter the workplace at the start of their shift. Employers can use the COVID-19 Screening Tool for Workplaces issued by the Ontario Ministry of Health. Those who do not follow this rule, may face fines.
You should set aside space near the main entrance of your workplace to be a screening station. Make sure there's either a protective barrier or at least six feet distance between the screening staff and the employees who are screened.
Make sure your daily screening questionnaire is compliant with the government's screening tool. All your staff must answer the questions before entering the workplace. You must keep a record of all completed screening forms (whether electronic or paper).
Recent inspection blitzes have found failure to properly screen staff as a common reason for non-compliance.
Not wearing face masks was another frequent violation. Ontario amended Regulation 364/20 in October 2020 to require the wearing of masks in most indoor workplaces with some exemptions.
Not having proper signage
Inspectors will also be looking for proper behavioural signage in your workplace. Make sure you have floor markers indicating the ideal physical distance (at least six feet) to maintain. Put up posters on hand and respiratory hygiene in your workplace where they are clearly visible. If you have a multicultural workplace, try to put up signage in all the languages spoken by your staff.
All entrances to your office must have signage informing visitors how to screen themselves for COVID-19 before entering.
Put up posters in the lunch and break areas on capacity and time limits. The signage should remind staff to remove masks only when eating or drinking. Post signs to remind staff to wash or disinfect their hands before and after eating.
If you've set aside a screening area at your entrance, put up signs in visible locations explaining the process and conditions for entry. All retail businesses must post permissible capacity limit for in-person shopping publicly.
Do you have more questions about health and safety inspections?
Our health & safety experts will ensure your workplace is OHS compliant and as safe as possible for your staff. See how we have helped other small and medium businesses get their business compliant with provincial legislation.
5 Mistakes to Avoid During a Health and Safety Inspection
Related articles
Blog

Michelle Ann Zoleta

Health & Safety Team Manager

Workplace Health & Safety

Blog

Michelle Ann Zoleta

Health & Safety Team Manager

Workplace Health & Safety

Blog

Michelle Ann Zoleta

Health & Safety Team Manager
Back to resource hub