Risk Assessment at Daycares: What Employers Should Know
Risk Assessment at Daycares: What Employers Should Know

Michelle Ann Zoleta, Health & Safety Team Manager
(Last updated )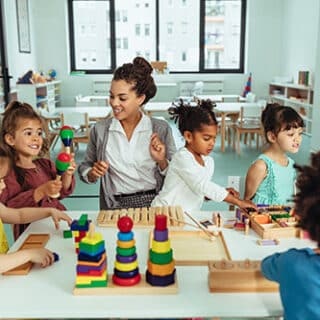 Michelle Ann Zoleta, Health & Safety Team Manager
(Last updated )
Effective health and safety management is critical for daycares. Besides ensuring you follow all provincial regulations to ensure the safety of children under your care, you must also take all reasonable precautions to provide a safe work environment to your staff.
Attending to children all day and helping them with various learning activities can be physically and emotionally exhausting. The nature and demands of the job require frequent bending, lifting, squatting, reaching, and carrying children. Besides supervising children, supporting their families – at times managing aggressive parents – can also be stressful.
Employee injury due to employer negligence or non-compliance with your provincial health and safety legislation can lead to time-lost claims, penalties, prosecution, and even closure of your daycare.
A thorough risk assessment should be the foundation of your workplace health and safety program. Regular risk assessments help employers identify potential hazards in the workplace, the risks associated with those hazards and ways to manage those risks by installing appropriate safety controls.
What are some common hazards in daycares?
Some common hazards at daycares include:
Musculoskeletal disorders as employees are required to lift and hold children, move around furniture, and other objects
Slipping and tripping hazards
Poor postures due to frequent bending and stooping when working with kids on the floor and being around child-sized furniture
Contracting infectious diseases
Occupational stress
Being exposed to violence and harassment
Chemical hazards due to prolonged exposure to disinfectants and sanitizers
How to best manage employee safety?
Conduct a risk assessment
The first step is to identify hazards on the premises. A hazard could be any process, object, or situation that could harm the worker. For instance, a broken ladder, tables with sharp edges, frayed electric cords, rickety step stools, slippery surfaces, etc.
After identifying the hazards, you should conduct a risk analysis to evaluate the level of risk it presents. This will help you decide what safety measures to apply to control, minimize or remove the hazards.
Put safety controls in place
The hierarchy of controls is a basic concept of workplace health and safety. It ranks different methods of controlling hazards according to their effectiveness. It is often represented as an inverted pyramid with the most effective method at the top and the least effective at the end. These hazard controls are most successful when used in combination.
The controls are as follows:
Elimination: The most effective control is always to eliminate the hazard entirely. Replace broken equipment, such as a broken ladder or step stool, with new ones. If clutter in the classroom or play area is leading to trips and falls, declutter the workspace.
Substitution: If a hazard cannot be eliminated, substituting it with a safer or less hazardous alternative is the next best option. For instance, replacing tables with sharp edges with rounded ones, using natural cleaning products in place of toxic cleaning chemicals.
Engineering controls: This method is designed to remove the hazard at the source before it comes in contact with the worker. For instance, using barricades to indicate wet floors, using child locks on cabinets, using step stools to reach objects above shoulder level, and using cushions or a wall as a backrest when working with children on the floor.
Administrative controls: Administrative controls are policies and procedures created to reduce the hazard. They include training and educating employees on safe work procedures, workplace ergonomics, handling aggression from hostile parents/guardians, and having a policy on pandemic continuity and personal hygiene to reduce risk of communicable diseases. As this method of controlling risks does not eliminate or reduce the hazard in the workplace, administrative controls should be used in combination with other control measures where possible.
Personal Protective Equipment (PPE): PPE is the last line of defence in safety controls. It includes the protective devices workers wear to protect themselves from a hazard. For example, using gloves when changing diapers, wearing aprons and hairnets during lunch hour, etc.
Communicate with employees
Employers should document and share their safe work procedures with all staff. Involve your employees in the risk assessment process and get their feedback as well.
Review and update
Being on top of health and safety in the workplace is a constant process.
You should conduct a risk assessment every time:
There's a change to a work procedure
You introduce new equipment
You identify a new hazard
You shift to a new work premises
Regular health and safety audits will help you identify any improvements you need to make to your workplace health and safety plan and determine how effective your current safety control methods are.
Do you need help developing HR and health and safety policies for your workplace?
To provide a safe workplace to your staff, it is important that employers have relevant health and safety policies in place. Our experts can help you develop company policies, and with any other HR, health and safety and employee management matters that may arise.
You can access over 250 risk assessment templates with Peninsula's BrightSafe software. You and your staff can also enjoy access to exclusive e-learning courses on a range of topics, such as workplace ergonomics, violence and harassment, working alone, fire safety, etc.
To learn more about how Peninsula's services can support your business, call an expert today at (1) 833-247-3652.
Risk Assessment at Daycares: What Employers Should Know
Related articles
Blog

Kiljon Shukullari

HR Advisory Manager

Blog

Blog

Olivia Cicchini

Employment Law Expert
Back to resource hub