About Peninsula
Peninsula takes the risk and hassle out of HR and Health & Safety management – for over 44,000 UK business owners
Leading expertise

Over 44,000 employers across the UK trust Peninsula

Advice you can trust

Insured advice from certified and chartered consultants

Time-saving tools

Peninsula's HR management software is the UK's favourite

Experts since 1983

The leading HR and Health & Safety experts for 40 years
Since 1983, Peninsula has been supporting UK businesses with their HR and Health & Safety.
We started small ourselves, just a few people in a room.
So, although we've grown over the years, our values remain the same. We know what small businesses need because we are still a small business at heart.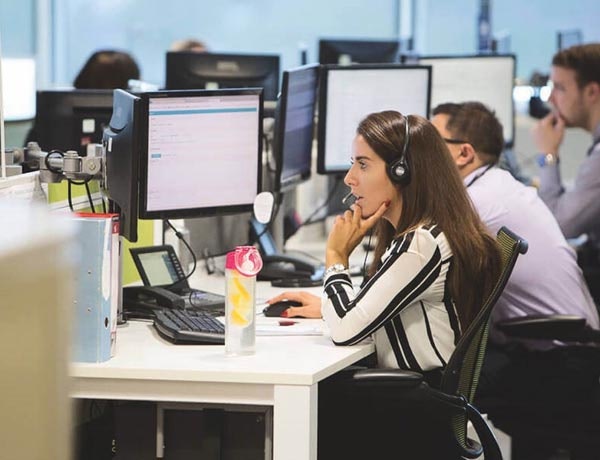 When Peter Done launched Peninsula in 1983, it was the first of its kind…
Before then, employers didn't have access to round-the-clock employment law support. Instead, they had to either take a risk or invest in costly solicitor fees.
So for 40 years since, Peninsula's consultants have guided employers through their toughest workplace challenges. And today, our services go beyond HR to cover Health & Safety management, legal insurance, employee wellbeing, and much more.
What Peninsula can do for you...
11 mins
A history of
Peninsula
From humble beginnings in Salford to global success, here's Peninsula's journey...
Peninsula launches

Salford-born brothers, Peter and Fred Done, launch the business after identifying an opportunity in the UK.

1987

We experiment with a two staff telesales team. Its success will help us grow year-on-year.

1991

Peninsula members get access to our free 24-hour advice line the first of its kind.

1997

1st September becomes a landmark day as Peninsula sets up office in Dublin, Ireland.

2001

Peninsula enjoys rapid growth

2002

Peninsula wins a place on the prestigious Sunday Times Fast Track 100.

2004

Peninsula turns 21. Fred Done: "There is no doubt that Peninsula has succeeded because we have an exceptional product, and we are fortunate that we have a second-to-none workforce."

2007

We expand into the Isle of Man and Jersey, now covering the entire UK and Ireland.

2010

We move to our current state-of-the-art building in Manchester, UK.

2013

Now operating in two continents with over 30,000 members, we've come a long way in 30 years

2013

We acquired Employsure in Australia, growing its membership by 10,000 in 3 years.

2015

As Peninsula opens another office in Glasgow, Scotland.

2015

Peninsula launches its HR software, BrightHR

2015

Peninsula acquires Croner Group UK, and is now supporting over 50,000 members worldwide.

2016

Given the success in Australia we expand our offices to Auckland, New Zealand.

2017

Peninsula open for business in Canada!

2018

Investing in Ireland by opening a second office in Cork

2019

Peninsula's software, BrightHR, launches Blip (staff clocking in and out app) and Pop (a staff expenses tool)

2020

Peninsula launches BrightSafe - H&S management software to help people return to work safely after lockdown

2021

Through innovations in technology and service delivery, we help our clients emerge from a global pandemic stronger than ever

2022

Global expansion continues across Canada and Australia. BrightHR expands to Canada

2023

Peninsula raises £2 million for the Royal Manchester Children's Hospital
Helping businesses succeed for
40 years
For over 40 years, thousands of business owners have chosen Peninsula for HR and health & safety support. Discover what they have to say.
Hair and beauty
6 employees
Risk, red tape, and endless regulations.
That's every business owner's worst combination…
Because when you're constantly grappling with HR and Health & Safety requirements, it's impossible to give your business the attention it deserves. And the legal cost of making a mistake is enough to keep you awake at night…
It's why tens of thousands of UK employers partner with Peninsula to save time and reduce risk. With access to round-the-clock HR and Health & Safety advice, they make better, safer decisions.
And with suite of time-saving tools and documentation services, they're free from time-consuming admin and paperwork.
The reason they stay with us, year on year? It's because Peninsula cares about your business. Your adviser will listen and learn about what you want to achieve – and help you find a risk-free route to get there.
It's freedom from doubt and indecision. It's more time for your business. And it's a worry-free nights' sleep.
Feefo Customer Rating 4.8 out of 5
4.8/5
Independent Service Rating based on 1444 verified reviews.
Average Customer Rating:
4.8/5
Independent Service Rating based on 1444 verified reviews. Read all reviews
Take the first step towards a
safer
business
Speak to a Peninsula consultant to see how you could save time and cut risk with unlimited support