Unfair dismissal

Peninsula Group, HR and Health & Safety Experts
(Last updated )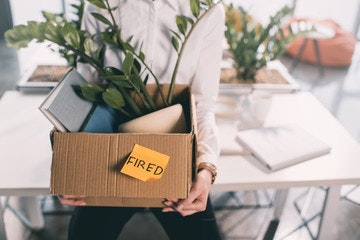 Peninsula Group, HR and Health & Safety Experts
(Last updated )
Read our guide on how to avoid unfair dismissals and learn how to terminate employment contracts in the legally correct way.
As an employer, you'll have to deal with terminating contracts from time to time.
It's often a difficult and stressful situation to deal with. And can be made more stressful if you don't follow the correct legal procedure.
If you don't, you could face claims of unfair dismissals. Leading to tribunal hearings – and costly fees.
This guide will explain how a dismissal can be classed as unfair. And show you how to follow the correct methods for dealing with claims when letting your employees go.
What is unfair dismissal?
Unfair dismissal is when you terminate an employment contract without having good reason, or without following a fair process.
All employers must follow a legally correct method when actioning a dismissal.
In UK law, all employees have a statutory right to not be dismissed unfairly. So, you need to act fair and reasonably when letting people go,
If an employee believes their dismissal is unfair, they could raise their claim to an employment tribunal. Here, they could find you acted unlawfully if:
Your reasons were automatically unfair.
You failed to follow a reasonable dismissal process.
What are the reasons for a fair dismissal?
The Employment Rights Act (1996) states there are five fair reasons for dismissing an employee. They are:
Conduct

: where their behaviour is unacceptable.

Capability

: due to medical reasons, or where they don't have the right skills.

Redundancy

: where the role is no longer needed by the company.

Legal reasons

: where employing them is a breach in the law.

Some other substantial reasons (SOSR)

: this can include several reasons not categorised by the above.
Find out more about the fair reasons for dismissal in our guide.
Automatically unfair reasons for dismissal
Automatically unfair dismissal only applies to those classed as an 'employee'.
This employment status will be outlined in their contracts. Sometimes the status listed in the contract is inaccurate though. It can also be defined by looking at the employment relationship.
Here are some reasons for wrongful termination which are automatically unfair:
Being part of a trade union (or engaging in activities).
Having religious or political opinions.
Being part of legal proceedings with an employee (like, whistleblowing, or being a witness).
Discriminating against protected characteristics (like, gender, race, religion).
Being pregnant, or other birth-related factors.
Disregarding protective leave rights (like parental leave, or carer's leave).
Unfair dismissal compensation
If you're found to have dismissed someone unfairly, employees may be entitled to receive an unfair dismissal pay-out.
As of 2021, the maximum basic award for unfair dismissal is £16,320, and is worked out based on the employee's:
Length of service.
Age.
Week's pay.
But if the employee faces further loss (like to wages, pension, rights), a higher compensation pay-out can be awarded. The maximum award for the unfair dismissal is £89,493.
But in some cases, the unfair dismissal cap can be unlimited. Like if a dismissal came because an employee raised a claim of discrimination, whistleblowing, or incorrect health & safety.
Alongside the compensation, unfair dismissal reinstatement might also be actioned. The unfairly dismissed employee might have been perfectly happy in their previous role and ask for their job back.
Employers need to follow through with these if a court has actioned reinstatement. It's a better option then meeting higher financial penalties and court hearings.
Who can raise claims of unfair dismissal?
There are some cases where people don't qualify to label a dismissal as unfair. The right not to be unfair dismissed is only available for:
Those classed as employee status (not a worker).
Those employed continuously for more than two years.
Those who have been dismissed.
Can a contractor claim an unfair dismissal?
The short answer is no, unless their status has been incorrectly defined. Generally, the claim can only be brought by an individual who has the relevant unfair dismissal qualifying period.
Ask a question on Brainbox
Get instant, expert answers to all your HR and health & safety questions
Get expert guidance on dismissal with Peninsula
Dealing with dismissals is something that all employers should be prepared for. Without following the correct legal procedure, you could face tribunal claims – which can be a costly price on you.
Peninsula are here to help your business avoid contractual breaches and dismissal errors.
If your business needs assistance with employment contracts and staff relations and contract terminations., Peninsula can walk you through the process.
It's important to treat your employees fairly—as well as to respect current employment laws.
You can contact us for guidance on any HR or employment law issues. Or request a call back for a time that suits you.
Get in touch for immediate assistance. Call 0800 028 2420.
FAQs
Got a question? Check whether we've already answered it for you…
Related articles
Guide

In this guide, we'll look at how to deal with an angry ex-employee, the problems they can cause and how to protect yourself to avoid the risk.

Peninsula Group

HR and Health & Safety Experts

Guide

How do you proceed if your employee doesn't pass their probation? What's the best way to handle a dismissal? Read this guide to find out the steps to follow.

Peninsula Group

HR and Health & Safety Experts

Guide

Low staff turnover is an essential target for businesses. The lower it is, the better. How do you manage your workforce? We explain the best business practices.

Peninsula Group

HR and Health & Safety Experts
Back to resource hub
Try
Brainbox
for free today
When AI meets 40 years of Peninsula expertise... you get instant, expert answers to your HR and Health & Safety questions