Company policies required by law (UK)
Company policies required by law (UK)
HR Policies Documentation

Peninsula Group, HR and Health & Safety Experts
(Last updated )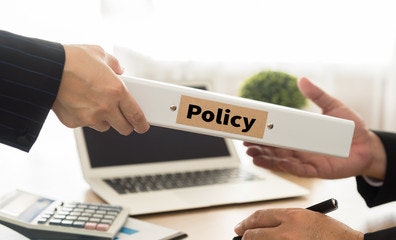 Peninsula Group, HR and Health & Safety Experts
(Last updated )
What are the company policies your business must have? This guide examines the British laws you need to follow to remain compliant in your employment contracts.
Policies play an important role in outlining an organisation's approach to various HR matters. A business policy defines your mission, from within which you can make decisions that subordinates will complete. Despite the fact very few are legally required, a great deal of these are strongly recommended from a best practice perspective and are more commonplace. So what HR policies are required by law (in the UK)? In this guide, we take a look at the ones you need and how you can go about applying them to your business.
Employment policies (UK)
There are some important policies your business will need to be compliant with British law. These are:
Equal opportunities.
Health & safety.
Equality and diversity.
Discipline/dismissal and grievance.
Effective business policies must be specific and clear on what they involve staff members doing. It should also be appropriate to your business and represent the goals you're aiming for. It's important you don't confuse a policy with strategy, too, as these are different. Your policy is effectively a blueprint for your business. Meanwhile, the strategy concerns the decisions you'll make on a daily, weekly, monthly, and annual basis. But you should remember the above types of company policies are mandatory. So, let's take a closer look at more of them
What policies should a small business have (UK)?
The below examples don't represent an exhaustive list. You may want to consider creating personalised policies to suit your business or industry. So what are the list of policies a company should have? Let's take a look.
Speak to an HR expert for free
Move past your HR queries and staff concerns with advice from a CIPD-qualified expert.
1. Equal opportunities
Although it's not stated as a legal requirement, the Code of Practice to support the Equality Act 2010 recommends that you implement an Equal Opportunities policy. Construct the policy in a way that ensures fair treatment and prevent discrimination on the grounds of protected characteristics such as gender, race and religion. While failing to have a policy in place is not unlawful, a tribunal will take a negative view of this should you have to defend against claims of discrimination.
2. Fair disciplinary hearings
The Employment Rights Act 1996 requires you to give employees a note specifying any procedure that applies to disciplinary decisions and the steps involved in dealing with a grievance. In addition, the Acas Code of Practice on disciplinary and grievance procedures recommends that employers introduce a policy outlining their commitment to fair disciplinary hearings and explaining their grievance reporting procedures to staff. This will be important in guiding the behaviour of employees, while also providing a useful framework for managers in charge of disciplinary investigations. Employment tribunals also reserve the right to add an uplift to compensation payments for any employers who suffer a loss at tribunal and fail to follow the Acas Code of Practice.
3. Personal data
Arriving in 2018, the General Data Protection Regulations (GDPR) places a number of requirements on you when it comes to managing and processing personal data. To make sure you comply with these requirements, you can choose to implement a policy that outlines your right to process personal data and explains to customers and staff some of the consequences.
4. Lateness and time off
Certain policies such as those on lateness, sickness absence and use of company property can be effective in moderating employee behaviour, whilst simultaneously forming the justification for taking punitive action against them. Although these are not legally required, incorporating such policies will place employers at a significant advantage, as staff will be unable to claim that they were unaware of the expectations placed upon them, providing the justification to take punitive action. Although there are very few policies that are a strict legal requirement, many detail key commitments and are therefore commonly incorporated as part of a best practice approach to prevent unlawful activity. Ultimately, you should ensure they have an adequate set of policies which are appropriate for the size and nature of their organisation.
5. Company ethics
But what about your ethical policy—is company ethics policy required by law? Every business should have one. As a code of values, it's an integral guideline on your business values. And on an external level it displays what your code of conduct is for employees and the public.
6. Environmental policies
There's an increasing demand from the public and governments to take their environmental policies seriously. And in certain industries, such as construction, there are environmental requirements you will need to follow. This is especially the case if Does every company require an environmental policy by law? Well, there are certain responsibilities you may want to consider if you're an SME. This can include energy management and water wastage. Plus, you may want to begin initiatives such as recycling policies. But for more ideas, you can get in touch with us for tips and guidance.
7. Equal pay
With the Equality Act 2010 and gender pay reviews, it's now essential to have a fair and regularly monitored equal pay policy. This ensures your staff members are all treated fairly, cutting out any gender bias and monitoring your workforce's wages.
Company policies required by law
With the above in mind, what business policies do you need to consider? There are only three that British law requires.
Health & safety policy (if you have more than five employees).
Disciplinary and dismissal policies.
Grievance policy.
However, there are various others you may want to consider. They can stabilise consistency in your business, such as personal email usage, dress codes, smoking breaks at your workplace, and data protection.
Need more help?
Still wondering what policies should a business have? With our expert business consultancy, we can help you stay compliant with British laws. Call us on: 0800 028 2420.
Company policies required by law (UK)
FAQs
Got a question? Check whether we've already answered it for you…
Related articles
Guide

Read our guide on EAP's. Discover what they are, what they include, and the benefits it can bring to your company.

Peninsula Group

HR and Health & Safety Experts

Guide

In this guide, we'll discuss what a salary sacrifice is, the different salary sacrifice schemes, and its advantages and disadvantages.

Peninsula Team

Peninsula Team

Guide

In this guide, we'll discuss mental health days for employees, the pros and cons of implementing them, and how to offer them in your workplace.

Peninsula Group

HR and Health & Safety Experts
Back to resource hub
Try
Brainbox
for free today
When AI meets 40 years of Peninsula expertise... you get instant, expert answers to your HR and health & safety questions