Your mid-year reminder: how to prevent a backlog of unused holiday
Your mid-year reminder: how to prevent a backlog of unused holiday

Kate Palmer, HR Advice and Consultancy Director
(Last updated )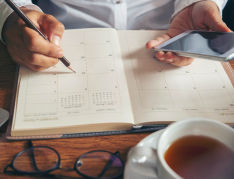 Kate Palmer, HR Advice and Consultancy Director
(Last updated )
"How many days have you got left, eh?"
Midway through the year is around about the time when your employee's annual leave consumption (or lack thereof) starts to smell like an end of year problem.
When you have staff stockpiling leave, it creates havoc when everyone's left with a worrying number of holidays left to splurge around Christmas. And when you need all hands on deck during a busy period like that, a staff shortage is nothing short of a disaster.
Not to mention, those employees who haven't been taking holidays are probably the ones who are most stressed, grumpy, and on the verge of burnout if they haven't already crossed that street long before.
So, consider us the ghost of business future here to help you avoid staff shortages, employee frustrations, and chaos down the line.
Just follow these steps…
1.      Encourage employees to start using leave now
An obvious one, but if you haven't already said anything – say it now.
A big reason why businesses have so many employees who don't take their leave is because no one gives them a nudge. So, now is the time to start giving your staff gentle reminders about getting those holidays booked.
Because while it is your employee's responsibility to make sure they use their holiday allowance, it is also your responsibility to remind them why they need to.
You could even send out a reminder email saying that now you're at the halfway point, your staff need to be making sure they're taking their annual leave. Emphasise the dangers of burnout and how important it is to rest and take time to enjoy life outside of work.
2.      Look out for problematic presenteeism
Sometimes, businesses can discourage employees from taking leave just by the culture they unwittingly create.
This is especially common in fast-paced environments where staff need to meet constant tight deadlines and everything is go go go.
This can create a culture of presenteeism where everyone works long hours with little or no breaks even when they should be resting.
Presenteeism does more damage to a business than good. Employees who feel like they can't take time off are more likely to be at risk of suffering high levels of stress and eventual burnout. They might worry colleagues or managers will think badly of them for taking time off, which can lead to low morale and an increased risk of mental health conditions.
It's an unhealthy environment for anyone. Hence why according to research, presenteeism actually costs UK businesses up to £26 billion a year. Because when employees keep turning up for work without ever letting themselves rest and recover, their overall health and productivity suffers.
So, to help avoid this and foster a culture of wellbeing, make sure your employees are getting the rest they need. Check in with them if you notice they're not taking time off. And if it's because they feel they have too much work or have concerns about letting people down, you may need to reassess their workload and take steps to support them.
And here's another thing, do you actually make use of your annual leave? Because if you never switch off from work, your staff might not think they can either. So, don't forget to lead by example.
3.      Have a clear annual leave policy (and remind staff about it)
You should have a watertight annual leave policy that lays out the rules around annual leave in your business.
Your policy should also lay out a clear system for booking holidays. And by following a consistent system, you help make sure your employees use their holiday allowance and your business stays adequately staffed all year round.
This might include rules around when your employees can't take leave (i.e. during particularly busy seasonal periods), how much notice they need to give to book time off, who gets priority if there are conflicting requests etc.
Without a system, you could find yourself accidentally short-staffed if you accept too many requests around the same time without realising. (HR software can help with this, which we'll get to later…)
No more HR paperwork...
Take time-consuming staff admin off your to-do list with expert HR documentation
4.      Keep tabs on employees with outstanding leave balances
Now is the time to check your employee records to see how much leave everyone has taken so far.
Line managers will be able to keep tabs on their employee's leave balances and remind them they need to use their holiday.
By keeping track regularly, you'll be able to spot when someone has a large amount of leave left, so you can tackle it before it develops into an issue later on.
You might find employees trying to 'save' their leave if they think they're allowed to carry it over or get paid in lieu. So to give you some legal context, you cannot pay an employee in lieu of the statutory minimum leave unless they're leaving the company and they have holidays left over.
It's only if you offer more than the statutory minimum (28 days) that you could 'buy it back' from your employee. In other words, you could pay them for any excess days. So for example, if you offer someone 35 days of holiday a year, you could pay them in lieu of seven days.
Most employees are entitled to 5.6 weeks of holiday a year. This includes four weeks of leave put forward by the Working Time Regulations and 1.6 weeks of domestic leave added on.
By law, employees have to take their four weeks of leave a year otherwise they lose it. They may only be able to carry over the extra 1.6 weeks of leave if you and your employee have a written agreement.
This is how it works currently but be aware that the government has recently announced changes to holiday entitlement in light of the Retained EU Law Bill.
Other than that, the only time your employee can carry over holiday is if they couldn't take it due to being on family leave or long-term sick leave. In that case, they must be able to carry over. However, the rules around this are not straightforward, so it's a good idea to seek expert advice if you do have an employee needing to carry over leave.
5.      Use holiday management software
Holiday management software is the most efficient way to manage employee absences and holiday balances all in one place, wherever you are. It's a lot quicker than trying to figure it out manually on paper.
With software, you only have to click open a dashboard that tells you how much leave your employees have left and any outstanding requests you need to accept or reject. This makes it easier to manage leave backlogs and identify any potential issues you might need to raise with employees.
Holiday management software also creates completely accurate holiday calculations by doing the maths for you. So, even if you hire an employee halfway through the year, it will still figure out how much holiday they're entitled to and will auto-refresh entitlements for all your staff whenever a new holiday year starts.
You can find out more about using holiday management software here. Alternatively, if you'd like to speak to an adviser about how to deal with an employee who isn't taking leave or setting up a holiday policy, tap below to get a free advice call today.
Speak to an HR expert for free
Get free tips and guidance from a qualified HR professional
Your mid-year reminder: how to prevent a backlog of unused holiday
Related articles
Blog

This caller was worried about their employee struggling with the post-holiday blues. So, they asked Kate Palmer, Peninsula's HR Advice and Consultancy Director, for expert advice...

Kate Palmer

HR Advice and Consultancy Director

Blog

One in four graduate employees quit in their first two months on the job, according to the Telegraph. To help improve the likelihood of your graduates succeeding and progressing in your company, here are some important tips…

Kate Palmer

HR Advice and Consultancy Director

Blog

ACAS recently updated its guidance around managing sickness absences at work. So, now is a good time to make sure you're doing everything you can to help manage sickness in your workplace.

Gavin Scarr Hall

Director of Health and Safety
Back to resource hub
Try
Brainbox
for free today
When AI meets 40 years of Peninsula expertise... you get instant, expert answers to your HR and health & safety questions