Six facts to consider before you hire young workers
Six facts to consider before you hire young workers

Alan Price, Chief Operations Officer
(Last updated )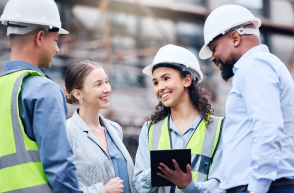 Alan Price, Chief Operations Officer
(Last updated )
Now school's out for summer, you may find your desk and inbox stacked with CVs from teenagers seeking to build up some work experience (and funds) while they're on their break.
And at such a busy time of year, you may be happy to oblige.
A young worker (someone who has reached school leaving age but is under 18) can be a great asset to a business, especially over a busy seasonal period. It's a win-win because they get a job and new skills to add to their belt, and you get temporary support and a fresh perspective. Not to mention, they're less expensive than hiring an adult.
But before you go ahead and do it, it's important to get your HR in order first. Because while you might be ready to employ young workers, forgetting certain legal bits could end in costly tribunal claims.
I'm not going to cover the bits you probably already know, like giving the right minimum wage. But to make sure you have the full picture before you even think about hiring someone underage, here are some important facts to consider…
1.      There's a restricted period on when young people can work
By law, young workers can't work between the hours of 10pm and 6am.
That's unless their contract allows them to work until 11pm, in which case they can't work between the hours of 11pm and 7am.
No one under the age of 18 is allowed to work a night job unless they're in a certain industry and all of the following apply:
No one over 18 is on hand to do the work.
The young worker is helping to meet extra demand.
The work won't affect the young person's education or training.
An adult is supervising the young worker.
The young worker will get time off for a rest afterwards to make up for it.
It's something to bear in mind if you rotate your staff on night shifts.
2.      Young workers are entitled to time off for study and training
In England, up until the age of 18 young people have to be in some kind of education or training by law. Whether that means they go to college, do an apprenticeship, volunteer while studying part-time, or do another form of training.
So, you would have to allow your young worker to work around their study and training. Which means they may need to work fewer hours a week than other staff.
This would be the case if you hired a young worker full-time over the summer and they then needed to return to school. You could continue their employment around their study, but you would have to make sure the job doesn't interfere with their education.
If you're not planning to work with a young person through an apprenticeship or trainee scheme, you should weigh up whether this time off for study might be an issue in your business.
3.      Young workers have different rights around working hours and rest breaks
It's important to remember that the rules around working hours and rest breaks are different for young workers.
A young worker can only work full-time once they've reached the school leaving age (in England, this is the year when they turn 16.)
And even when they are of school leaving age, they're not allowed to work as many hours a week as an adult.
On average, an adult can work no more than 48 hours a week under the Working Time Regulations. A young worker can only work for a maximum of eight hours a day and 40 hours a week. You also have to give them a 30-minute break if they work for more than 4.5 hours in a shift.
A young worker must also have at least 12 hours off between each shift they work, unless you split their working day up and give them a break to recover in between. For example, they could work four hours in the morning and then four hours later in the evening.
If you have a valid business reason that means your employee has to work during their resting time, you will need to give them a 'compensatory rest break' later to make up for it. The compensatory rest should be the same amount of time as the rest break they were originally entitled to.
You would also have to keep a record of how many hours they work, to make sure they don't go over their weekly limit.
4.      Young workers have a legal right to raise a discrimination claim
Young workers have the same protection from discrimination as adults.
Which means you would be liable for discrimination if you treated a young worker unfairly because of their age. Age is a protected characteristic under the Equality Act 2010.
It's why you need to make you don't discriminate by:
Treating young workers differently from your adult staff.
Assuming a young person doesn't have the experience to do a job.
Using inappropriate or stereotypical language to describe young workers like calling them 'kids'.
Age discrimination is often indirect and based on certain prejudices and beliefs about an age group. You can learn more about how age discrimination works here.
5.      You need to carry out a separate health & safety assessment for young workers
Young workers may be more vulnerable to suffering injuries or health issues on the job because of their lack of experience, as well as their physical and mental immaturity.
It means they're likely to need more supervision and training.
You have a legal obligation to assess your workplace for health & safety risks before their first day. You can do this by carrying out a risk assessment that considers whether your workplace could expose your young worker to:
Physical hazards.
Dangerous and toxic chemicals.
Extreme temperatures (hot or cold).
Generally, a young worker shouldn't be carrying out work where these risks come into play, unless it's absolutely essential for their training, they're under supervision, and you've taken safety measures to reduce the risks.
6.      You need a young worker employment contract
You might already know this one but it's important nonetheless. You need to provide your young worker with an employment contract when they start working that sets out the main terms and conditions of their employment.
This should outline the responsibilities of their job role, working hours and salary details etc. in line with the Working Time Regulations for employing young workers. (Remember, the regulations are different to employing adults so you would need to create a separate employment contract).
Whatever industry you work in, there's a lot to consider when you hire a young worker. So, make sure you're prepared.
To check you're following all the right HR and health & safety steps to avoid legal risk, you can ask an expert for free today. Because if you're in doubt, it's better to ask the question than face the consequences of getting it wrong.
So whether you've got a question about creating an employment contract, risk assessments, working hours, minimum wage, or another issue entirely, just tap the button below to book a free advice call with an expert.
Claim your free advice call
Find the safest and easiest way to resolve your workplace issue
Six facts to consider before you hire young workers
Related articles
Blog

This caller was worried about their employee struggling with the post-holiday blues. So, they asked Kate Palmer, Peninsula's HR Advice and Consultancy Director, for expert advice...

Kate Palmer

HR Advice and Consultancy Director

Blog

One in four graduate employees quit in their first two months on the job, according to the Telegraph. To help improve the likelihood of your graduates succeeding and progressing in your company, here are some important tips…

Kate Palmer

HR Advice and Consultancy Director

Blog

ACAS recently updated its guidance around managing sickness absences at work. So, now is a good time to make sure you're doing everything you can to help manage sickness in your workplace.

Gavin Scarr Hall

Director of Health and Safety
Back to resource hub
Try
Brainbox
for free today
When AI meets 40 years of Peninsula expertise... you get instant, expert answers to your HR and Health & Safety questions